"

Darren Dowler is one of the most multi-talented performers in show business today." - Craig Soldinger
— Editor In Chief - In Focus Magazine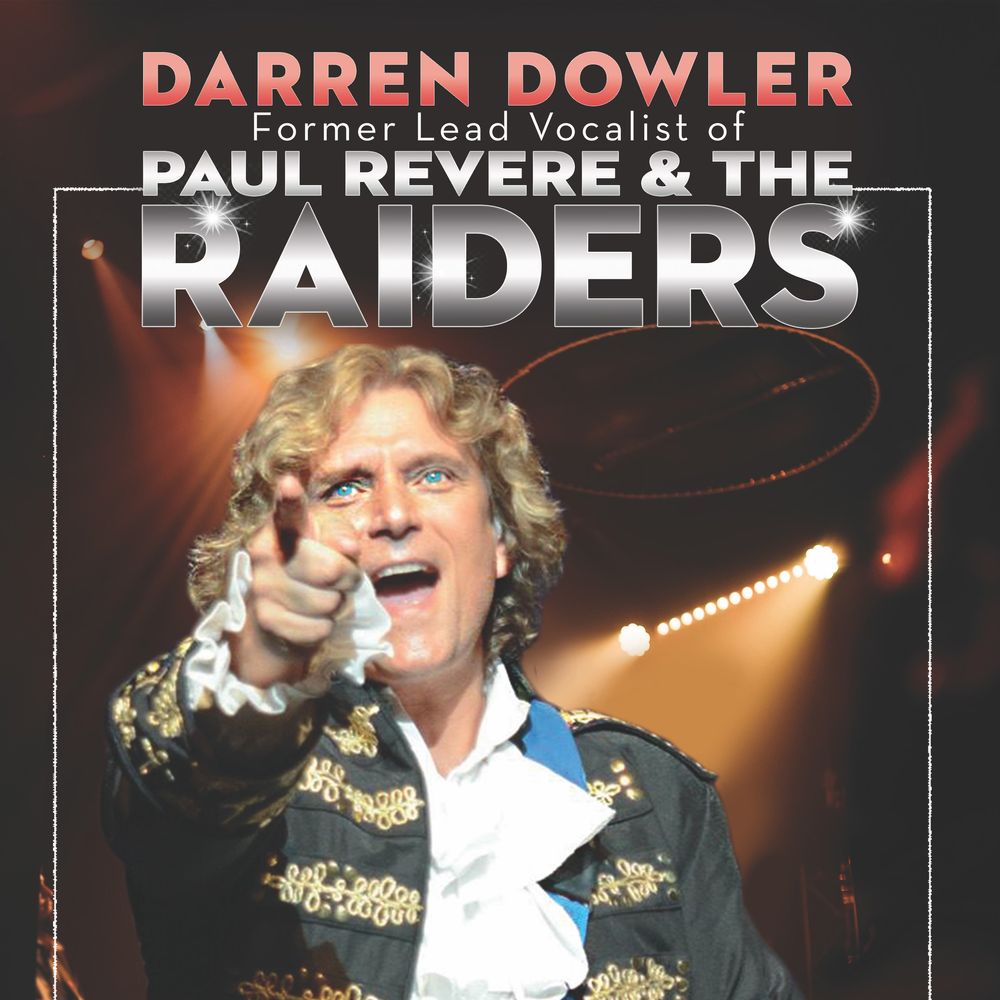 DArren Dowler – A Truly Multifaceted Performer
International Recording Artist, Showman, World Class Guitarist, Impressionist, Actor
Paul Revere and the Raiders, Bill Medley of the Righteous Brothers, The Backstreet Boys, Chuck Negron of Three Dog Night, Davy Jones of the Monkees, Gary Puckett, Mitch Ryder, The Lettermen, are but a few of the many A-list acts he's performed with. World class vocalist, power frontman, Darren Dowler is known as one of the finest entertainers and variety artists in the world. In 2022 as the former lead vocalist of Paul Revere and the Raiders, he was one of the headliners of the Time Life – Star Vista Flower Power Cruise, performing with rave reviews amongst 20 legendary acts!
In 2021, he received a star on the famed 'Hollywood Walk of Fame' across from Capital Records on Vine Street for his many years and body of work with harmony giants, The Lettermen.
Dowler also performed on Broadway in Elvis - An American Musical.
Also called, "The best singing impressionist in the business," and, "The most multi-talented performer in show business today," by Craig Soldinger, editor in chief of 'IN FOCUS' Magazine, Dowler puts on a powerhouse one-of-a-kind show all around the world, leaving audiences wowed, astounded and on their feet with every performance.
His show consisting of blues, rock, funk, even country from the famous groups he's performed with, his outstanding guitar work, impressions and comedy make for a powerhouse variety show for any and all crowds, of all ages anywhere.
Also an accomplished actor and director, Dowler has appeared in major films beside Will Smith (HANCOCK), Billy Bob Thornton and Shia Labeouf (EAGLE EYE) and more. He portrays the Reverend Billy Graham in the international film 'PALAU' and stars in and directed the Amazon Prime and TUBI TV hit comedy, 'ROCK AND ROLL THE MOVIE'.
–"Darren Dowler is the best lead vocalist I ever worked with." Paul Revere
–"Darren Dowler is a 'great' entertainer." Gary Puckett
–"Darren's not just a great singer with a great range, he's an entertainer." B.J. Thomas
–"Darren has an incredible vocal range." Davy Jones of The Monkees